Standard King Size BedderAbs System- Fits King, Queen, Full Or Twin Beds!
Select Your BedderAbs System
Standard or Deluxe?
With the DELUXE Upgrade Package, you get everything in the Standard BedderAbs System plus an extra set of BedderBands, a set of BedderWeights, a BedderBall and Pump, and the Level 2 Exercise Guide and Training DVD.
$70 of Bedder accessories for only $19.95 more!
King Size BedderAbs System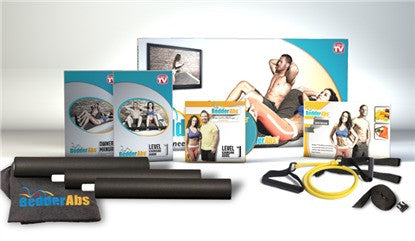 King BedderAbs System
fits King, Queen, Full or Twin-Size Beds
**30-DAY Money Back GUARANTEE**
FREE SHIPPING!
Save 60%
Product Details:
Get the King-size BedderAbs System for 1 easy payment of $39.95 -- that's more than 60% off the regular price of $110. This system includes everything you need to get firm tight abs and full body fitness from the comfort of your own bed. Get your BedderAbs NOW! FREE SHIPPING!
Features:
4 Padded Bedder Bars to fit a King, Queen, Full or Twin bed
2 BedderBands Resistance Bands
19' Strap with 2-piece Buckle
Bedder Mat - Bed Cover
Bedder Eating Nutrition Guide
Level 1 Exercise Guide
Level 1 Training DVD
BedderAbs Owner's Manual